Transformers
A low voltage lighting system uses a transformer to convert 120 volt current to 12 volt current. This safe, low voltage is distributed to the 12 volt light fixtures via wire cable. Transformers can be mounted inside or outside depending on the lighting design and electrical outlet location. We use only the highest quality stainless steel case transformers that are UL 1838 approved for landscape lighting. Also, they carry a lifetime warranty.
Wire
Special low voltage lighting cable is used to connect the fixtures to the transformer, usually 10,12,or 18 gauge is used. The cable can be easily hidden in the landscape or in the lawn. No trenching or disturbance of existing landscaping is needed. We also staple all of our cables in the ground to keep them in place.
Bulbs
Most bulbs used in landscape lighting fixtures today are halogen. The reason for this is you get a brighter, whiter light with less wattage. Wattages can range from 7 to 75 watts per bulb in a low voltage system, depending on the effect you are looking for. Average life of a halogen bulb is 2500 hours. How long is that? If you use your lighting system an average of 6 hours a night / 365 days a year, that is equal to 2190 hours. We usually recommend replacement of most bulbs after 1 year of service.
Fixtures
Low voltage lighting fixtures can be very decorative or easy to hide (if needed). They come in a wide range of colors and styles. Fixtures are also very easy to move and adjust as your landscape changes.
We use only fixtures manufactured by Kichler. They offer a wide selection of high quality landscape lighting products. For your information we have provided some photos below of actual fixtures, as well as a link to Kichler, should you be interested in visiting their website.
Connectors
One of the most important aspect of a high quality low voltage lighting system is "water-tight" connections. We use only direct bury splice kits from 3M® that prevent splices from getting wet and pulling apart.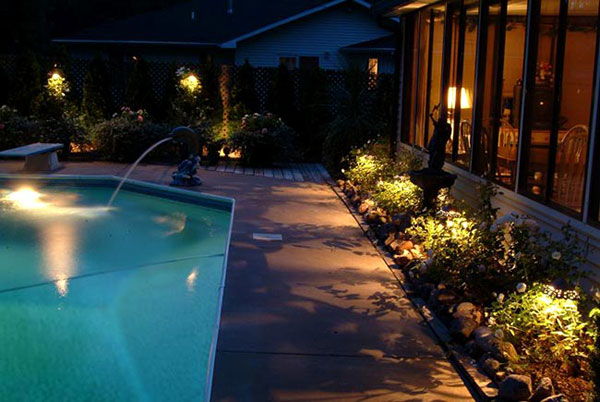 Crystal Koenig
2023-03-07
LifeSpark did an outstanding job with our lighting! Marcus, Cade, Trever and Steven did a beautiful job installing our lighting! Would highly recommend LifeSpark!!
Yvette Buckner
2022-05-19
These people are really professional. They showed up on the promised date and were on time. They installed lights as planned and they left no traces of themselves behind except for the newly installed lights. I would recommend them to anyone and plan to use them again should the occasion arise.
Brittnee Henderson
2022-05-19
This is the best lighting company in Chattanooga hands down! My house is lit up and absolutely beautiful thanks to LifeSpark. The Customer service is exceptional and the attention to detail is phenomenal. I had a light go out and just left a simple message expecting a call back on their voice mail and within 24hrs they were at my house replacing the bulb. I can't say enough about this great company, I highly recommend them and will continue to do business with them always.
Really love working with the team here! Troy is professional and efficient. They pay attention to detail and get the job done well. Would definitely recommend!
Extremely happy with quality of work. Troy had great recommendations on light placement to highlight features of the house and yard. We LOVE the final look and have received many compliments from neighbors. The installers were professional, willing to show and teach our young son about what they were doing and accommodating to the unexpected lawn care company as well.
Michael Howard
2021-05-09
Just had the lighting work completed on our home. Fantastic! I would highly recommend this company. The process was very smooth and the results were amazing.
A great company to do business with. Very knowledgeable and hard working. I recommend them absolutely.
LifeSpark was professional and responsive from my first request for information to the implementation of the our lighting unit to the follow-up. The outdoor lighting looks wonderful and operates seamlessly. I highly recommend LifeSpark.
Great experience from start to finish. Troy is very knowledgeable and responsive. The team of installers were great to interact with. They do quality work and use quality equipment. I have used LifeSpark for three separate projects and look forward to working with them again in the future.
free design
We'll Beat Any Competitor's Price and Warranty!