Best Landscape Lighting company in Chattanooga
free design
We'll Beat Any Competitor's Price and Warranty!

Enhance Your Chattanooga Property With Beautiful Landscape Lighting
At LifeSpark Lighting, we are a landscape and seasonal lighting design company based in Nashville, Knoxville, and Chattanooga, Tennessee. We specialize in custom lighting design for residential and commercial properties, utilizing only the highest quality and low-maintenance outdoor lighting components. Focusing on energy efficiency, we employ fully integrated LED technology in our 100% American-made fixtures, all backed by an industry-leading lifetime warranty. Landscape and seasonal lighting are our sole business, allowing us to hone our expertise in proper fixture placement and light capabilities, essential elements of professional landscape lighting design and installation.
Outdoor lighting offers aesthetic appeal and enhances safety and functionality for homes and businesses. By working with LifeSpark Lighting, Inc., customers can improve landscapes and extend their property's architecture. Our well-designed outdoor lighting fixtures create smooth transitions between indoor and outdoor spaces, while softer lighting adds warmth and depth. Strategically placed lighting also increases security by illuminating hazards and deterring intruders. Trust LifeSpark Lighting, Inc. for a beautiful, safe, and efficient transformation of your property.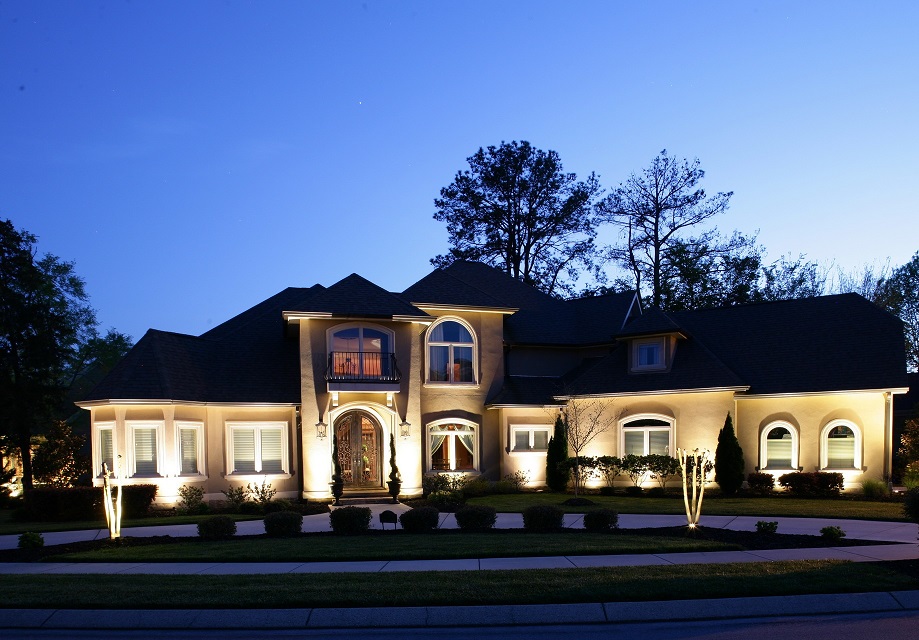 As Seen In:

Holiday Christmas Lights Intallation In Chattanooga, TN
Everyone loves the tradition of putting up Christmas lights because they make homes and businesses look super festive during the holidays. These bright and beautiful decorations remind us of being kids and the great times we have with family and friends. But, putting up and taking care of these lights can be tough and even unsafe, especially for those who don't have the right tools or experience. LifeSpark Lighting Holiday Lighting makes this easier by offering a smooth and helpful service to handle all your holiday light needs in Chattanooga, TN.
By choosing us at LifeSpark Lighting Outdoor Lighting, you can enjoy numerous benefits that come with professional Christmas lighting installation in Chattanooga. We use high-quality, custom-fit commercial grade lights, ensuring a stunning appearance. We handle the entire process, from installation to removal and storage, allowing you to enjoy the holidays without stress or risk. Our growing portfolio of satisfied clients highlights our commitment to excellence and customer satisfaction.
INCREASE YOUR ENJOYMENT
SECURITY, AND HOME VALUE
Our customers are so expressive in how much they enjoy driving up to their homes at night after we have turned Darkness into Distinction with our innovative design and lighting packages. 
Security
Nighttime home lighting enhances security and safety by deterring burglars and reducing crime. Professor Marcus Felson found that lighting effectively prevents crime as it helps people spot criminal activity.
Home Value
Many homeowners aim to boost their home's value for aesthetics and potential future sales. A recent WDSUNews.com blog post highlights that installing trendy, safe, and economical low-voltage outdoor lighting can increase a house's worth and appeal to potential buyers.
The LifeSpark Difference
Transforming Your Home from Darkness to Distinction
LifeSpark Outdoor Lighting
Lifetime warranty on everything (fixtures, transformer, install, connections) – Very simple
Free AMP (Annual Maintenance Plan) – Never have to do or pay for maintenance again!
Integrated (no bulb to change ever) LED Fixture (lifetime warranty)
Quality of light output maintains a consistent smooth look for years
Our Integrated LED Fixtures are Made in USA
Outdoor Lighting is our only business – we are the experts
Our Integrated LED fixtures at 20 years old are still at 90% Brightness (Light Degradation)
Largest selection of unique lights so that we can achieve the lighting effect you are looking for.
A Typical Lighting Company
Very confusing warranty. LED bulb 5 years, installation 10 years, connections 5 years, timers 1 year
Charge a yearly maintenance fee. Usually $15-20.00 per fixture per year. Can get quite expensive
LED Retro fit bulb Usually only a 5 year warranty (Less reliable , less output)
LED bulb light doesn't blend or fade well (color and quality of light is not consistent)
LED bulbs are made in China or Taiwan
They do landscaping and or irrigation as there main business
LED bulbs at only 5 years old are already down to 70% brightness (Light Degradation)
Only a few different types of lights to use and usually the design and lighting effect will suffer.
THE LIFESPARK DIFFERENCE
Illuminate your home,
light up your imagination.
Why Our Customers Love LifeSpark
Crystal Koenig
2023-03-07
LifeSpark did an outstanding job with our lighting! Marcus, Cade, Trever and Steven did a beautiful job installing our lighting! Would highly recommend LifeSpark!!
Yvette Buckner
2022-05-19
These people are really professional. They showed up on the promised date and were on time. They installed lights as planned and they left no traces of themselves behind except for the newly installed lights. I would recommend them to anyone and plan to use them again should the occasion arise.
Brittnee Henderson
2022-05-19
This is the best lighting company in Chattanooga hands down! My house is lit up and absolutely beautiful thanks to LifeSpark. The Customer service is exceptional and the attention to detail is phenomenal. I had a light go out and just left a simple message expecting a call back on their voice mail and within 24hrs they were at my house replacing the bulb. I can't say enough about this great company, I highly recommend them and will continue to do business with them always.
Really love working with the team here! Troy is professional and efficient. They pay attention to detail and get the job done well. Would definitely recommend!
Extremely happy with quality of work. Troy had great recommendations on light placement to highlight features of the house and yard. We LOVE the final look and have received many compliments from neighbors. The installers were professional, willing to show and teach our young son about what they were doing and accommodating to the unexpected lawn care company as well.
Michael Howard
2021-05-09
Just had the lighting work completed on our home. Fantastic! I would highly recommend this company. The process was very smooth and the results were amazing.
A great company to do business with. Very knowledgeable and hard working. I recommend them absolutely.
LifeSpark was professional and responsive from my first request for information to the implementation of the our lighting unit to the follow-up. The outdoor lighting looks wonderful and operates seamlessly. I highly recommend LifeSpark.
Great experience from start to finish. Troy is very knowledgeable and responsive. The team of installers were great to interact with. They do quality work and use quality equipment. I have used LifeSpark for three separate projects and look forward to working with them again in the future.
CHANGING LIVES
OF YOUTH REC CENTER
Chantanooga, TN
free design
We'll Beat Any Competitor's Price and Warranty!